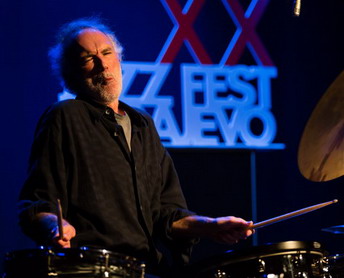 Over forty years of international concert tours, numerous recordings in Europe, Asia and the USA, and hands-on research of Indonesian, Indian and African music are some of the main elements which have influenced the work of American born Mark Nauseef. It is a music enriched by the great artists he has played with and the master musicians with whom he has studied.
Mark has performed and/or recorded in an unusually wide variety of musical situations with such artists as, amongst others, Joachim Kühn, Jack Bruce, Rabih Abou-Khalil, Trilok Gurtu, Steve Swallow, L.Shankar, Hamza El Din, The Velvet Underground, Ronnie James Dio, Markus Stockhausen, Ikue Mori, Bill Laswell, John Zorn, Gary Moore, Kyai Kunbul (Javanese Gamelan), Andy Summers, Ian Gillan, Tony Oxley, Tomasz Stanko, Kenny Wheeler, Edward Vesala's "Sound and Fury", Thelma Houston, David Torn, The Ladzekpo Brothers (Ghanaian music and dance), Charlie Mariano, The Gamelan Orchestra of Saba (Balinese Gamelan), Kudsi Erguner, Philip Lynott, George Lewis, Evan Parker and Lou Harrison.
Nauseef attended the California Institute Of The Arts (CalArts) where he studied Javanese Gamelan with K.R.T. Wasitodiningrat, Balinese Gamelan with I. Nyoman Wenten, North Indian Pakhawaj drumming with Pandit Taranath Rao, North Indian music theory with Pandit Amiya Dasgupta, Ghanaian drumming and dance with Kobla and Alfred Ladzekpo, Dzidzorgbe Lawluvi and C.K. Ganyo, and 20th Century Western percussion techniques and hand drumming with John Bergamo. Mark also studied frame drum techniques of the Middle East, India and the Caucasus with Glen Velez.

Nauseef has also worked as a producer. In addition to his own recordings, he has produced many records of various types of music including modern experimental forms as well as traditional forms. Traditional music productions include numerous recordings of traditional Balinese and Javanese music such as the acclaimed and award winning "The Music of K.R.T. Wasitodiningrat" which was recorded in Java and features the compositions of this master Javanese musician. Other examples include Balinese ensemble recordings "Gamelan Batel Wayang Ramayana" and "Gender Wayang Pemarwan" which were recorded in Bali. These recordings and many others of Indonesian music were produced for the CMP 3000 "World Series" with the production team of Kurt Renker And Walter Quintus. The "Worlds Series", which Mark was instrumental in establishing, was founded by CMP owner and producer Kurt Renker and produces recordings from a variety of non-western countries including India, Turkey, Korea, Indonesia and others.
All of this flows into drummer Mark Nauseef's music, and, together with his own personal means of expression, make up his distinctive sound. DOWN BEAT magazine has called his recordings "mysteriously moving, thoroughly personal and boundary mocking."